Registration Fee Onsite
Onsite
Full Paper
Presenter (Abstract)
Listener
Student
US$ 580
US$ 420
US$ 320
IEEE Member
US$ 530
US$ 420
US$ 320
Invite Speaker
US$ 530
US$ 420
Unaccepted
Regular Authors
US$ 700
US$ 480
US$ 380
Additional Paper
US$ 450
Unaccepted
Unaccepted
Additional Page
US$ 70/Per one
Unaccepted
Unaccepted
Optional One Day Tour
US$ 100
Important Notes
• For full paper, the first five pages are free, extra pages will be charged.
• USD and Euros are accepted.
• For registration at IEEE member and student registration rate, proof of IEEE membership and student status (e.g., IEEE membership number/card, student identity card) must be provided at the registration desk for collection of conference package during the conference.
• Pay attention!! After you submitted all materials and finished registration process, your paper will be submitted to editors for re-modification and publication. If there are any problems, the conference secretary will mail or call you soon. Please check your mailbox usually and keep your cellphone available. If you cannot amend paper and feed back modified one before the deadline, publication will be cancelled without any refund.
• Academic groups & Others Please contact the conference secretary via secretary@icmae.org, let us know your requirements and we will feed you back the specific proposal.

Onsite registration note and guideline
• Paper cannot be published ontime. Maybe transfer to next year proceedings
• Attending and certificate will be handing writing instead of printing
• Please send the required documents: 1. final paper; 2. signed copyright form; 3. filled registration form; 4. payment proof to secretary@icmae.org to finish the registration after you make payment onsite.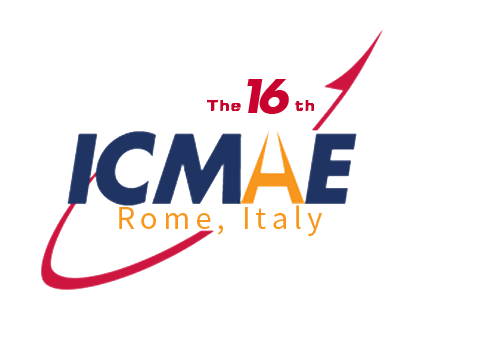 • Conference Meetings/Sessions
• Coffee Breaks
• Welcome Reception
• Gala Banquet
• Oral/Poster Receptions
• Conference Material
• Abstracts Book
• Conference proceedings (electronic copy)
• Conference Meetings/Sessions
• Coffee Breaks
• Welcome Reception
• Gala Banquet
• Oral/Poster Receptions
• Conference Material
• Abstracts Book
• Conference Meetings/Sessions
• Coffee Breaks
• Welcome Reception
• Gala Banquet
• Conference Material
• Abstracts Book